Scrambled eggs are something that almost everyone makes, they're quick, easy and delicious!
But they can go terribly wrong.
Here's 9 ways to improve your scrambled egg…
1. Gordon Ramsey makes his in a pot and takes them off the heat every now and then to make sure they don't overcook. 
2. Chrissy Teigen adds a load of heavy cream and slowly cooks them over a low heat. 

3. Ina Garten also cooks hers over low heat and adds a ton of fresh herbs to the mix. 
4. Marcus Samuelsson adds goats cheese and kale to his scramble for the perfect fridge clean-out meal. 
5. Martha Stewart doesn't add anything to her eggs, but pushes them towards the centre as they cook.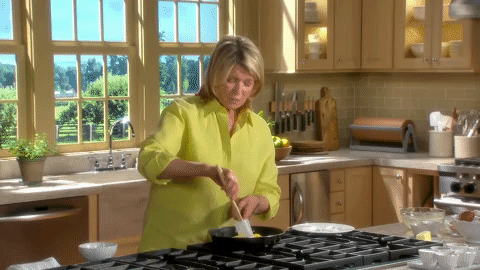 6. Wolfgang Puck cooks his with a ton of diced onions.
7. Thomas Keller strains his eggs through a fine mesh sieve. 
8. The Pioneer Woman (AKA Ree Drummond) also strains her eggs, but adds smoked salmon and half-and-half.
9. Alton Brown cooks his over a high heat and swears by serving them on a warm plate.